About Recoll Upholstery
Who we are ...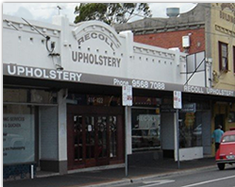 With over 35 years of experience, Recoll Upholstery focus on the restoration of traditional, antique and modern furniture. Founded in 1988 by Graham & Sylvia McColl, Recoll Upholstery has built its name on restoring furniture to its original condition using only traditional methods which date back to the early 1500's. Graham started his apprenticeship in 1974 with a traditional restoration company who taught him every aspect of traditional furniture refurbishment. Sylvia has been closely involved with the business since its conception incorporating her interior decorating expertise and has been the backbone to the business providing their clients with services that stands to be the best available.
What we do ...
What you can expect from us is old-school upholstering methods using hand-stitched and traditional materials such as horsehair and coconut fibre. One-off designs are made to order. If clients have a particular design in mind, Graham is more than happy to design to their specifications.
Recoll Upholstery is regularly called upon to restore some of the most intricate pieces of premier furniture from the biggest departments in the industry including, The National Trust, Warner Bros. Pictures and Government House just to name a few.
Why We Do It ...
Recoll Upholstery is passionate about restoring/manufacturing furniture and look forward to every new product that walks in the door as it presents both Graham and Sylvia with a challenge to do the best they can at reviving someone's treasure which in turn can be handed down from generation to generation.
Graham and Sylvia McColl